Keenan Winery is proud to have been awarded by Wine & Spirits as one of the world's TOP 100 WINERIES seven times in the last nine years. We thank Wine & Spirits Magazine for this outstanding recognition.
The Wine & Spirits Magazine's Top 100 Wineries award celebrates highly acclaimed wineries from diverse regions throughout the world of wine. The renowned wine magazine vets thousands of producers in a two-step, blind-tasting process and highlights the top 100 for their collections of outstanding wines. The winning wineries are celebrated in the world's Top 100 Events in San Francisco and New York City.
Read some of Wine & Spirit Magazine's reviews of Keenan wines below.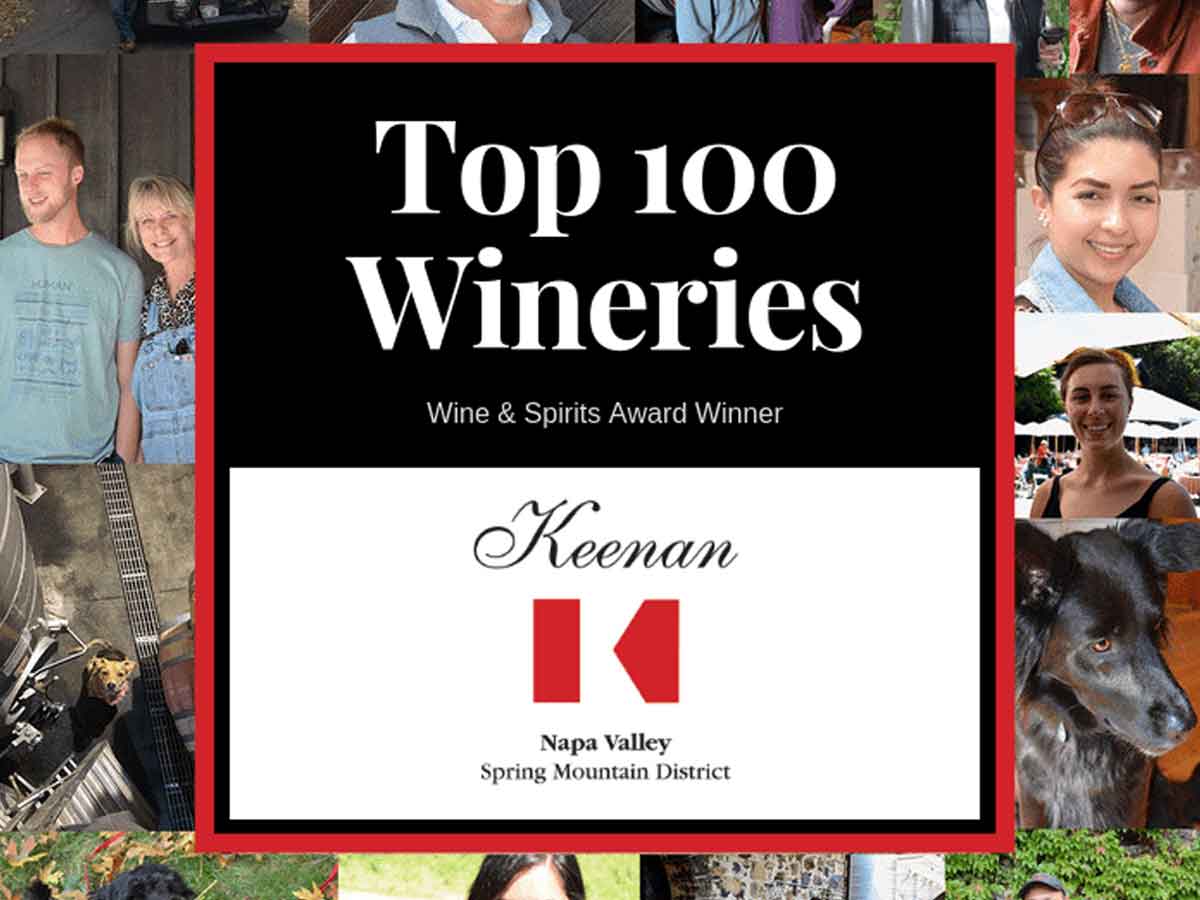 2016 Chardonnay, Napa Valley, Spring Mountain District, 40th Anniversary, April, 2018
90 Points: 
"Spicy and savory, this oak-and-mineral-driven chardonnay delivers flavors of bacon fat and hominy. It carries its juicy, bold flavors into an austere, dry finish. Point it to-wards milk-braised veal"
2015 Zinfandel, Napa Valley, June, 2019
93 Points: 
"Michael Keenan has grown a half acre of zinfandel at the entrance to his winery on Spring Mountain since 1998, later interplanting it with a little alicante and carignane.
In 2007, he planted 2.5 acres of a similar mix at the Point Vineyard on his estate. He found that when that latest planting came into production, it took his Napa Valley Zinfandel to a new level. Keenan harvests and coferments the fruit, then blends it with a little zinfandel from a parcel in Calistoga planted in 1956 and now farmed by his vineyard manager, Peter Nissen. The combination produces a bold and delicious wine, its intensity held within the dark charm and gentle grace of the tannins. Its plummy, silken fruit feels cool, fragrant and floral, lasting with bergamot notes and gamey spice. Decant it for grilled quail."—Joshua Greene, Wine & Spirits Magazine
2013 Keenan Chardonnay Spring Mountain District, April 2015
92 Points:
"Good merlot can often seem workmanlike, this one satisfied to hit fragrant notes of ripe cherries with clarity. It's not pushed, and though there's plenty of oak present in the tannins, it frames the fruit well."
2012 Keenan Merlot, Napa Valley, June 2015
91 Points:
"Barrel fermented without having gone through malolactic conversion, this is a firm, completely savory chardonnay, gaining its viscosity from the richness of alcohol. The oak feels integrated, driving star-fruit flavors toward earthier tones of bitter almond. A full-bodied white for a veal chop."
2011 Keenan Cabernet Sauvignon, Reserve, Napa Valley, Spring Mtn. Dist., June 2015
94 Points:
"A finely tailored mountain wine, this proves the quality that could be achieved above the fog in 2011. It has the cool feel of the forest on Spring Mountain, the wine's freshness portrayed in scents of violets, red apple skin, cedar and humus. Savory rather than directly fruity, this emphasizes the power and grace of its tannins, their cool briskness of crushed rock leaving the mouth feeling refreshed. It may be rich, but the flavors remain precise."
Wine & Spirits 19th Annual Restaurant Poll, April 2008
Top 10 in America:
"San Francisco wine competition judge who writes for Beverages & More, eCommerce Cellarmaster. ranks Keenan's Napa Valley Merlot as one of the top 10 most popular Merlot's in American Restaurants."
Wine & Spirits American Cabernets, December 2006
Keenan 2002 Reserve Cabernet Sauvignon
Top 9 out of 535 American Cabernets / 94 Points:
"Over the last twelve months, Wine & Spirits tasted 535 American Cabernet Sauvignon wines. Nine out of the 535 Cabernet Sauvignons received the strongest praise from our critics, including the Keenan 2002 Reserve Cabernet Sauvignon. Mountain-grown tannins give this a superrich feel, the flavor black and exotic with a deep, primary feel. For lamb or game sausages. (280 cases) "
Top 100 wineries of the year
Driving into the Mayacamas Mountain between Napa and Sonoma is kind of like throwing the hand brake in the fast lane. All the whirring light and urban noise of the bay's cities abruptly halt and disappear. It's a sudden removal that has attracted settlers to these mountains since the 19th century, and occasionally you can glimpse remains of old vineyards and some stone buildings like those that Robert Keenan found when he started his winery on Spring Mountain in 1974.
By the mid-1980s, Keenan was producing intense mountain-grown cabernet and merlot when the winery hit a snag with its lead distributor. Keenan's difficult patch continued through phylloxera, which forced the winery to replant its vineyards between 1995 and 1998, making wine from contracted grapes in the meantime.
Keenan's son Michael came to the winery in 1998 determined to change this course. With the help of cellarmaster Randy Kewell, manager Matt Gardner and consulting winemaker Nils Venge, the younger Keenan has been largely successful: The replanted estate vineyards came online with the 2001 vintage, and as the vines age, the wines continue to improve. His '02 Napa Valley Cabernet, for instance, is dense and savory, its austere tannins balanced with more generous fruit from valley-floor vines. The '04 Spring Mountain Chardonnay shows the austerity of mountain-grown fruit, here balanced with rich, spicy baked apple flavor.
The wine that best capture Spring Mountain's terroir might be Keenan's '02 Reserve Cabernet Sauvignon, from a selection of estate vines planted at 1,700 feet. The immediate hit of black-peppercorn spice alone reflects the power of its mountain-grown fruit; its deep, juicy core of fruit furthers that impression, black as volcanic soils the vines grow in. It's a wine that makes it clear that Keenan is back on track. – W.M.W.