Top 13 Cabernet Wine Tasting Vintages
"What a difference a vintage makes. I just participated in an unusual three-vintage blind Cabernet wine tasting set up by the Napa Valley Vintners as part of their Premiere Napa Valley promotional event and auction.
The years were 2002, 2003 and 2004, from 12 representative wineries up and down the valley. To me it confirmed that 2003 is an excellent vintage with its own personality, while 2002 and 2004 are stylistically similar to each other, deeper, fatter and more massive than 2003, which has classic Napa Cabernet aromas, pretty fruit flavors and great balance. You pick which style you like, and buy them while they last.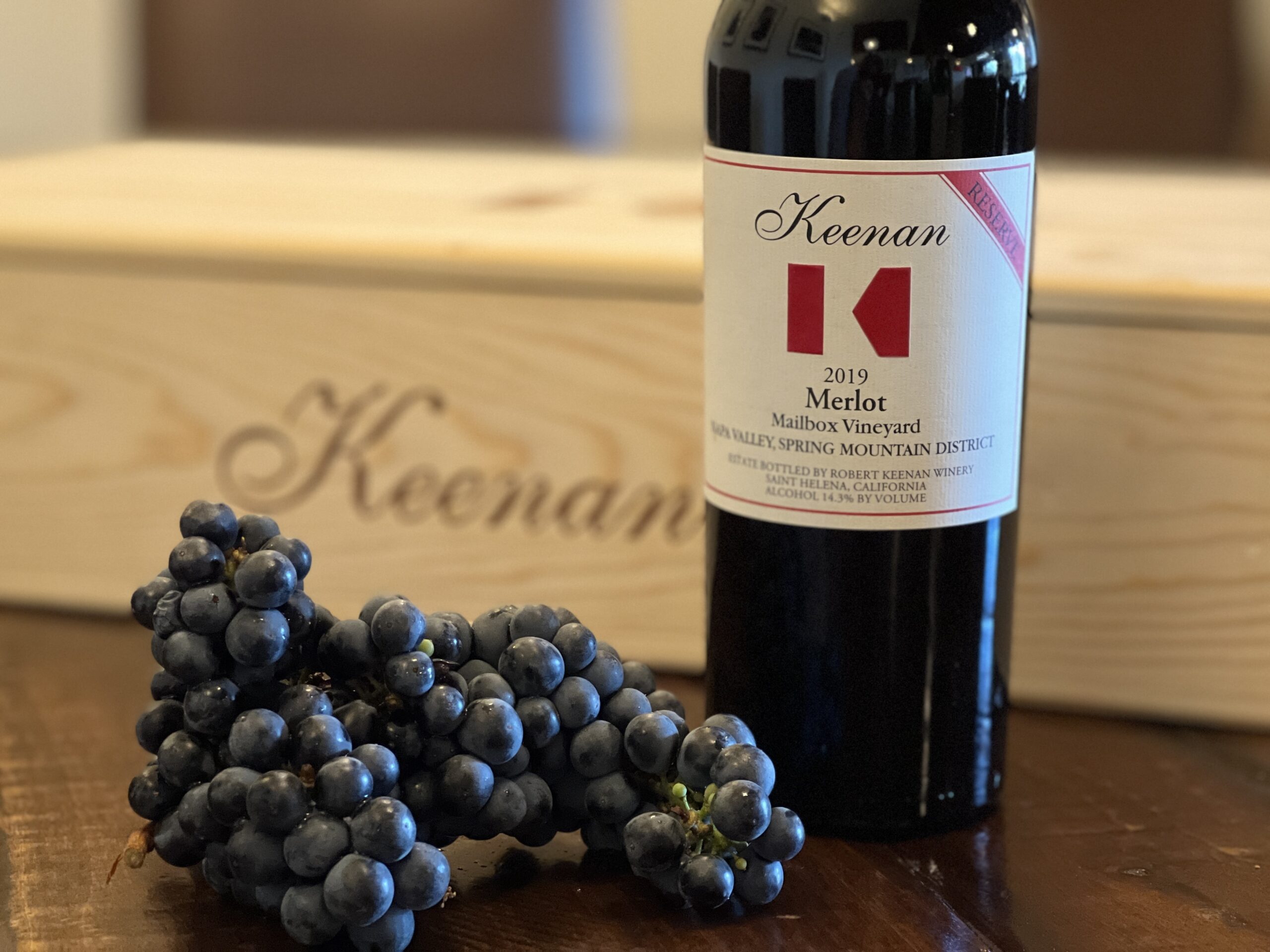 Winemakers around Napa have been quietly griping since James Laube of Wine Spectator gave the 2003 mediocre marks last fall, and advised people generally not to buy the vintage, especially since the prices had not dropped from 2002. He maintained that 2003 counts as the third off vintage in the six years from 1998 to 2003, making it a bad run in general.
I disagree, and encourage Cabernet wine tasting lovers and the wine trade, especially those who've been complaining about the high alcohol levels and excess fat in California wines, to reconsider 2003. Out of 36 wines in the tasting, the three vintages finished very close together in my scores, with 2002 having a slight lead over the other two.
On my vintage chart, five out of seven vintages from 1998-2004 including 2003, are exceptional. 2000 was lighter, rather mute, with markedly less personality than 2003. 1998 was, yes, a noticeably weak year for Napa Valley, showing herbaceous flavors and a thinness in many wines.
Here's a great case where restaurants and retailers as well as consumers can show a little independence from the critics that they're often complaining about and decide for themselves. I haven't tasted as many 2003s as Laube, my old colleague and friend, but in many of the 100 or so that I have tried, there's a fascinating, distinct, unmistakable Cabernet bouquet of bright fruit, with hints of cedar and cinnamon, pretty and sometimes exotic fruit flavors with an unusual brightness and clarity, and a more elegant texture and lively balance than many good years.
If anything, these 2003s are like Bordeaux in balance and complexity, and should age very well for at least 10 years. It's not always the big fat years that age well, as we're seeing now with lots of 1994s that are past their primes.
My Summary of the Cabernet Wine Tasting
The top four wines from 2003, with my 100-point-scale scores, were as follows. The Vintners didn't provide prices instantly, so I will attach those later in the Reviews searchable database. These vary from about $50 to $200 per bottle, with Shafer's Hillside Select being probably the most expensive in this group, and highly advise Cabernet wine tasting enthusiasts to try them out.
94 Grgich Hills Napa Valley 2003
93 Seps Estate Napa Valley Storybook Mountain Vineyard 2003
93 Shafer Stags Leap District Hillside Select 2003
93 Tres Sabores Rutherford Perspective 2003
2004 had a few more spikes in high scores, due to its great concentration and richness. My favorites were:
94 Shafer Stags Leap District Hillside Select 2004
94 Tres Sabores Rutherford Perspective 2004
93 Keenan Spring Mountain Reserve 2004
93 Grgich Hills Napa Valley 2004
And for 2002, my favorites were:
95 Keenan Spring Mountain District 2002
95 Seps Estate Napa Valley Storybook Mountain Vineyard 2002
95 Shafer Stags Leap District Hillside Select 2002
93 Grgich Hills Napa Valley 2002
93 Robert Mondavi Oakville 2002
Why Napa Valley Is The Best Place For Bordeaux Wine
"Napa has achieved protected name status in the EU. Rightly so – its latest Bordeaux wine blends are a rival to the real thing,"
A Thorough Review Titled 'Joining The Top Table' by Steven Spurrier at Decanter, California 2007
Better Bordeaux Wine? Spurrier's Standouts
2004 Vintage: Keenan Winery, Cabernet Sauvignon
5 Stars – Number One
2003 Vintage: Keenan Winery, Cabernet Sauvignon
4 Stars – Number Two
On 24 May this year, a reception was held at the German Consulate in San – Francisco – Germany currently holding the presidency of the European Union – to announce that the Napa Valley had been officially recognised with Geographic Indication (GI) Status as a protected name in the EU, the first such recognition of an American wine place name. Napa therefore joins Champagne, Jerez, Chianti Classico, Tokaji and Port as signature members of the Joint Declaration to Protect Wine Place and Origin. The law highlights and protects the unique identity of wine places around the world.
For the consumer, this is all about truth in labeling – just as one would expect Jersey tomatoes to come from Jersey, it is reasonable to assume that wine whose labels read Napa should come from the Napa Valley. In the past, this was not always the case, but now the Napa name is protected, at least in the EU.
The Napa Valley may well be the most recognised wine region in America, but it represents only 4% of California's wine production. Yet this 4% actually accounts for 25% of Californian wine sales. Despite this, and though the decision is a great victory for the Napa Valley Vintners, a non-profit trade association now in its seventh decade, the sad truth is that Napa's wineries have very little penetration of the European market. Although California has now reached third place in volume sales to the UK, the vast majority of these are made up of brands. During my visit to California earlier this year, I was approached by several producers, such as Trefethen or Heitz, whose wines had been almost household names thanks to the pioneering Geoffrey Roberts in the 1970s and 1980s, but no longer had importers in Britain. At London's annual California Wine Tasting, a good third of the stands had that ever so hopeful tag, 'seeking representation'.
Yet in Napa itself, optimism seems to know no bounds. After being one of the panelists at the annual Symposium for Professional Wine Writers at Meadowood – which showed that wine writing in America is alive and well – I was able to attend the Premiere Napa Valley Barrel Tasting, a marvelous overview of wines mostly from the excellent 2005 vintage from 187 producers. The impression I was left with was one of vibrant fruit and good vineyard origin, and my palate did not pick up on the high alcohols for which California is so often castigated.
Good vineyard management produces ripe, healthy grapes and there is no doubt that global warming is compounding this natural richness. Napa already enjoys a Mediterranean climate, so a 14.5′ wine is as normal to Napa as a 13.5'wine now is to Bordeaux wine. Twenty years ago, one degree could have been lopped off these figures.
The words 'plummy' and 'chocolatey', not very positive in castings of barrel samples from Bordeaux, lose all negativity when the wines are bursting with fruit and so enjoyable. I am not against'high alcohol wines per se, but I am against them when they lack balance. Napa whites fare less well in this regard, due to lack of acidity, but the reds have tannin structure that actually needs sufficient ripeness to see it through.
'Most 1970 vintage Bordeaux wine did not have the concentration needed to age for the next generation. Napa Valley Cabernet wines from this period did'
That such wines will last into their second decade – the most that all but a tiny handful of wines are kept for – is not, in my view, in doubt. The key is that they do not need to. Bordeaux wine vintages of the 1960s and 1970s had to have time to soften the edges of unripeness and rough tannins. That many of them, as witnessed by the re-run of the 1976 Paris tasting last year, did not last 30 years, whereas their California counterparts did, was simply because they were not ripe enough. Bordeaux 1982s, even 1959s – hot years in a pre-technology, pre-selection era – are still going strong. Even though 1970 was viewed as a very good year in Bordeaux at the time, most wines did not have the concentration that is needed. to age for the next generation. Napa Cabernets from this period did.
Three decades later, while I expected the older Bordeaux wine to emerge triumphant, I forgot to consider the styles of wine being made back then. This would have told me the extra depth of ripeness from California would show through.
Throughout the 1990s, Bordeaux has moved towards a perfect balance of ripeness and concentration. California, and Napa in particular, was making impressive gains in concentration, but losing elegance along the way. The critics were not without blame, witnessed by the fine 1998, derided as a weak vintage, which is showing particularly well today. Following the tasting of the original red wines, younger vintages, mostly 2000, were tasted and this time California came off worse, its wines appearing chunky and sweet by comparison. Yet there now seems to be a search for vitality to match the vigour natural to a warm climate and in the 2005 wines I found a lift and personality not evident in the 2000's.
The Award Winning & Exclusive Mernet Reserve Wine
Keenan's Killer 97-Pointer: Sexy Mernet's Star of the Show
By Bob Sprentall at B-21 Wine Co. March 31, 2011
"It's hard to tell what Mike Keenan does best, he hits the heights with everything that comes down off Spring Mountain. His Cabernet Sauvigon is exceptional yet it's the mountain-high Merlot and Cabernet Franc, his Right Bank stuff, that knocks me over. You too judging by the crowd at the B-21-Keenan dinner this year. I was stunned by the Mailbox Reserve Merlot (92+) and that was the low scorer!
Now For The Mernet Wine
The 2007 Cab Franc won a 94 rating and a spot on the Top 100 list; you rarely see this little grape so high. There's a reason, when Keenan makes Cab Franc it's crazy elegant. Somehow his Merlot especially the Mernet Wine Reserve (half Merlot, half Cab), can be even better: 97 points and a "wow wine" in the Wine Advocate. I agree.
To me Keenan is the best master of terroir-driven Merlot and Cabernet this side of St. Emillion. He has great terroir to work with, the rocky, high altitude vineyards of Spring Mountain. Mike treats it right too, without heavy oak or overripe picking; he's old-school Bordeaux with mountain. That makes traditional Merlot and Cab Franc of classic structure. Hard to find anywhere, and not at our price. You're gonna want that.
Bon Vivant Wine Reviews At Keenan Winery
February 2007 – "Sleeper"
We flipped back and forth as to whether we should give the January 2007 Sleeper accolade to the 2003 Robert Keenan Cabernet Franc or the 2003 Robert Keenan Mernet (a blend of Merlot and Cabernet in both the name and the wine). In the end, we decided on the Cabernet Franc because we liked the prospects of the upcoming 2004 vintage a little better than that of the Mernet. But this is just another reason why Robert Keenan as a winery on the whole needs to be looked at again as it may have fallen off the radar. – Bon Vivant Wine Reviews Explained for the January 2007 Sleeper Accolade
Why Bon Vivant Wine Considers Keenan Vintages Promising
In 1974, Robert Keenan bought property on Spring Mountain that was to be his winery and vineyard. His goal was to make a Bordeaux style wine that would compete with First Growths. The winery originally employed dry farming and maximum stress much like its Bordeaux counterparts and made wine that was austere and took a long time to come around. Flash forward 30 years later, Robert's son Michael is now firmly at the helm and in charge of a new style of winemaking at the winery. He has famed winemaker Nils Venge to consult. Michael focuses the winery's energy on tannin texture management, moving away from the harder style of his father. But this is not about a quick fix to appeal to what is popular or fashionable. Michael strives for expression of appellation and not too high alcohol in his wines. Production is kept low and farming has moved to using sustainable measures. This is a wholesale change in attitude and the wine shows off these benefits.
While we have not had any older vintages prior to Michael's changes, the wines we had showed a lot of promise, overall being big on the backend and silky on the front end. We firmly believe you should be putting Robert Keenan back on your radar.
The Best Merlot Wine of 2010 Rated By Northbay Biz
Northbay's BEST 2010 Readers Poll places Keenan's Merlot Wine best of 2010."
Merlot is my favorite wine," says Michael Keenan, president of Spring Mountain's Robert Keenan Winery. "It has a roundness and richness that's really appealing to me. It also pairs with the widest range of foods."
For years, people called Keenan's Merlot Wine the "Cabernet lover's Merlot." This is largely because it has deep, rich flavors and tannins—much like Cabernet Sauvignon—that are specific to the estate where it's grown.
Purchased in 1974, the winery sits at 1,700 feet, on the site of the original 1904 Conradi Winery, which (thanks to prohibition) sat empty for 40 years before Michael's father, Robert Keenan, purchased it in 1974. It first released Chardonnay and Cabernet Sauvignon in 1977, then Merlot in 1978. Michael took the company over in 1998.
Is The Focus Still Merlot Wine?
Today, the winery focuses on Chardonnay, Cabernet Sauvignon and Merlot (along with a small amount of Cabernet Franc, Zinfandel, Syrah and Mernet, a Merlot/Cabernet blend), producing about 12,000 cases annually.
There are 40 vineyard acres on the property, 12 of which are Merlot wine. The winery offers three different kinds: Napa Valley Carneros, Napa Valley and the single-vineyard Mailbox.
"I've invented the portable vineyard designate," says Keenan. "The [Mailbox] vineyard used to be by the mailboxes near the road. It was originally bottled for a single-vineyard Merlot I thought we'd only do once [in 1997], because we pulled the vineyard afterward [it was replaced with Cabernet]. But people kept asking for it. So, in 2005, we chose the lower bowl vineyard as the single-vineyard Merlot— and we put a mailbox down there.
"The 2006 Mailbox has a bit of Cabernet Franc. It has roundness, elegance and a long finish," says Keenan.
Why Choose Napa Valley For Merlot Wine?
The Napa Valley is the winery's most popular and largest production Merlot wine. It has 70 percent estate fruit and 30 percent fruit that's sourced from Carneros. "This is the most traditional one for us," says Laura March, who manages the tasting room and hospitality side of the business. "It's nice to add fruit-forward elements into a more Cabernet-like Merlot." The result is a very rich, deep and complex Merlot.
"The 2006 [the winery's 30th vintage] Napa Valley Merlot has depth of fruit, spice, earth, roundness, tannins…it has everything," says Keenan.
The 2007 Napa Valley Carneros is sourced from Andy Beckstoffer's Carneros vineyard. "We've always pulled fruit from the Carneros region to blend with the estate Merlot," says March. "But now we do the Carneros by itself because it's a whole different wine.
"It's a more typical Merlot; medium-bodied with lots of red fruit. It's just an easygoing,pleasant,crowd-pleasing wine," she says.
The Keenan staff works closely with consulting winemaker Nils Venge to craft the estate's wines. "Spring Mountain is the best appellation for Merlot. It loves the cooler temperatures, lots of sunshine, eastern exposure, clay and rocky soil combinations. There's also a later harvest here, which allows for better hang time," says Venge.
When they blend, they do it blind and take notes. Everything is picked and produced separately, by vineyard, and aged separately. "We do blind tastings because I'm always fighting against my preconceived notions," notes Keenan, who says one of the most significant things he's learned through blind testing is that he feels Cabernet Sauvignon takes away from Merlot, while Cabernet Franc works well with it. "The wine I enjoy making the most is a treasure hunt of blending," he says.
Speaking of treasure hunts, when you visit, be sure to ask about the winery's "secret" blend. I'll leave that one up to you to discover.